There is some great training footage here; you can see the sweat and tears that goes into training for Olympic berths/medals. The great athletes are normal people who "get the joke" -- and understand that in order to be an Olympian you've first got to do what Olympians do. You have to have precise technique, for sure, and you've got swim at race pace often.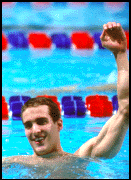 But you have got to grind it out quite a bit.
Many days a week, and many weeks per year, Champion swimmers have got to grind it out.
It doesn't matter what form the work takes; for a sprinter it may be 4 rounds of sparring in the boxing ring, followed by a run, then at night some back-end race pace 50s.
For a distance swimmer it may be an hour long set hovering around and at mile racing pace.
There are not many athletes in the world who grind, have great technique, and hit consistent racing pace -- and do them consistently well, which is why in American Swimming only 1000 out of 400,000 make it to Olympic Trials.
It's also why only the top 25 Women and 25 Men get on the Team every 4 years!
The toughest part to do is the "grind it out" part. Great athletes get into the zone where the arms, legs, and most of all the stomach are suffering quite a bit at practice. Swimmers get the feeling of training/racing pain that is exclusive to swimmers! If you haven't thrown up a little in your mouth, you probably haven't found your edge yet! If you haven't felt that tight stomach 35 minutes into a 50 minute threshold set, you probably haven't found your edge yet either! I'm not advocating being unsafe, but the fact is that many athletes want to avoid these feelings and many athletes are missing out on becoming the athletes they truly can be because of this avoidance. These feelings are tough at first, but soon after experiencing these feelings the great athletes learn how to dampen them -- and that's where the training breakthroughs come in.
A few athletes, here and there around the world will embrace these feelings over the next 389 days.
Will you be one of them?
A lot depends on how willing you are to make your swimming performance more important than everything in your life minus family and school.
At T2 Aquatics, we have zero 18-and-under athletes who are currently qualified to attend and compete at the 2016 Olympic Trials. Some major adjustments must be made in order to gain admission to this opportunity to compete in one of the World's fastest and most exciting competitions.
Think about the best 20 minutes of training you have had all Spring, and try to replicate those 20 minutes for an entire practice. If you can do this once, then come back the next day and do it again! Grind it out until you are faster!
If major adjustments are made, on a daily basis in practice, we could have multiple T2 Aquatics athletes compete in this meet.
The choice is yours. Let's get it done!